Liveries
Currently in use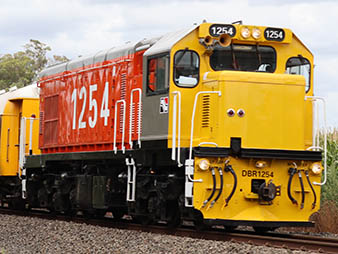 International Orange
Also known as: Fruit Salad
Introduced: 1978
New Zealand Rail livery. Orange with a white number on the side of the locomotive.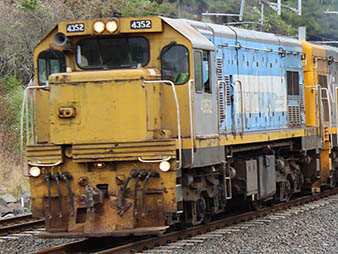 Tranz Rail Blue
Also known as: Cato Blue, Tranz Metro (for passenger carriages)
Introduced: 1995
Introduced by Tranz Rail in 1995. Some locomotives in this livery had the Tranz Rail logo applied over the top of the old New Zealand Rail logo.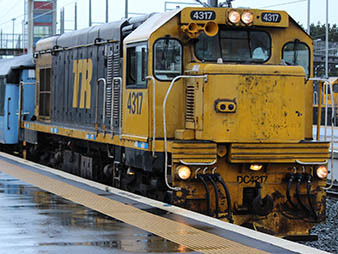 Tranz Rail Black
Also known as: Bumble Bee
Introduced: 2001
Introduced by Tranz Rail for railway crossing safety campaigns.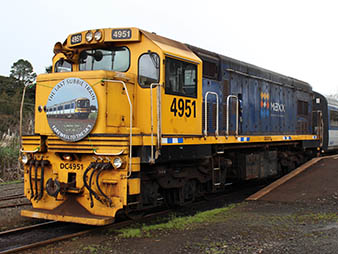 MAXX Blue
Introduced: 2002
First introduced when the ADL DMUs were refurbished. Applied to most Auckland suburban diesel rolling stock. Locomotives still wearing this livery in service today no longer have the MAXX logos.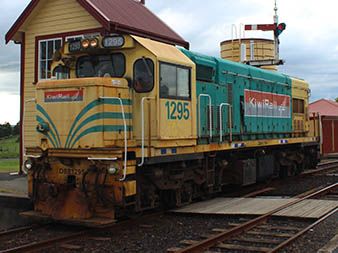 Toll Rail
Also known as: Corn Cob, Skippy
Introduced: 2004
Introduced when Toll purchased Tranz Rail in 2004. All locomotives in the Toll livery have KiwiRail patches over the Toll logos, and the livery is progressively being replaced with the KiwiRail livery. At present, this livery is only worn by some shunting locomotives.
Metlink
Introduced: 2007
Current livery. Used on Wellington's Matangi electric multiple units, as well as Wairarapa Connection carriages.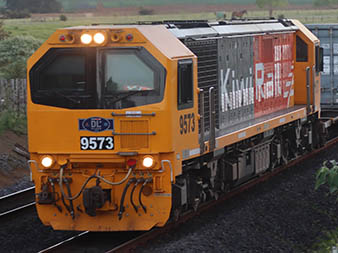 KiwiRail
Introduced: 2008
Current livery. Introduced after purchase of Toll Rail by the Government in 2008. Two major variations on this livery exist; the earlier version with a horizontal separation between the red and grey sections, and the current version with a vertical separation.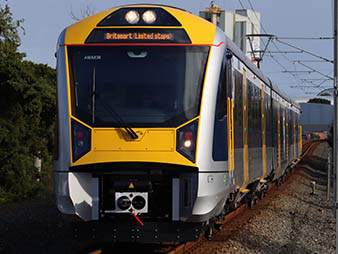 Auckland Transport
Introduced: 2013
Current livery. Auckland Transport's livery as applied to the AM class electric multiple units. Visually, the livery is an evolution of the older MAXX livery used on diesel trains, with a darker shade of blue.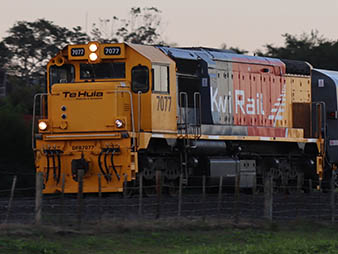 Te Huia
Introduced: 2021
Current livery. A variant of the KiwiRail livery with the Te Huia logo on the locomotive's nose.
Past liveries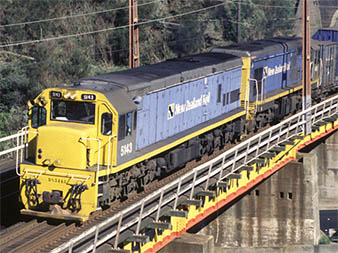 New Zealand Rail
Introduced: 1991
A short lived livery. A slightly darker shade of blue compared to Cato Blue.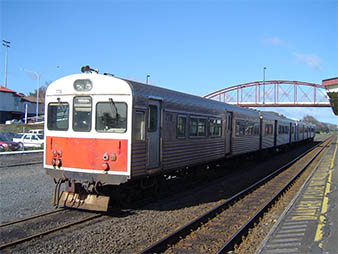 Transperth
Worn by: all Auckland DMUs, until 2002
No longer used on any DMU in Auckland, this livery was used on the ADK and ADL DMUs during their time in Perth, and then in Auckland up to 2002-2004.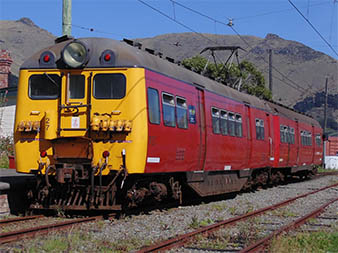 Midland Red
Introduced: 1920s
Used by the DM electric multiple units for most of their lifetime. Some preserved DMs are still in Midland Red.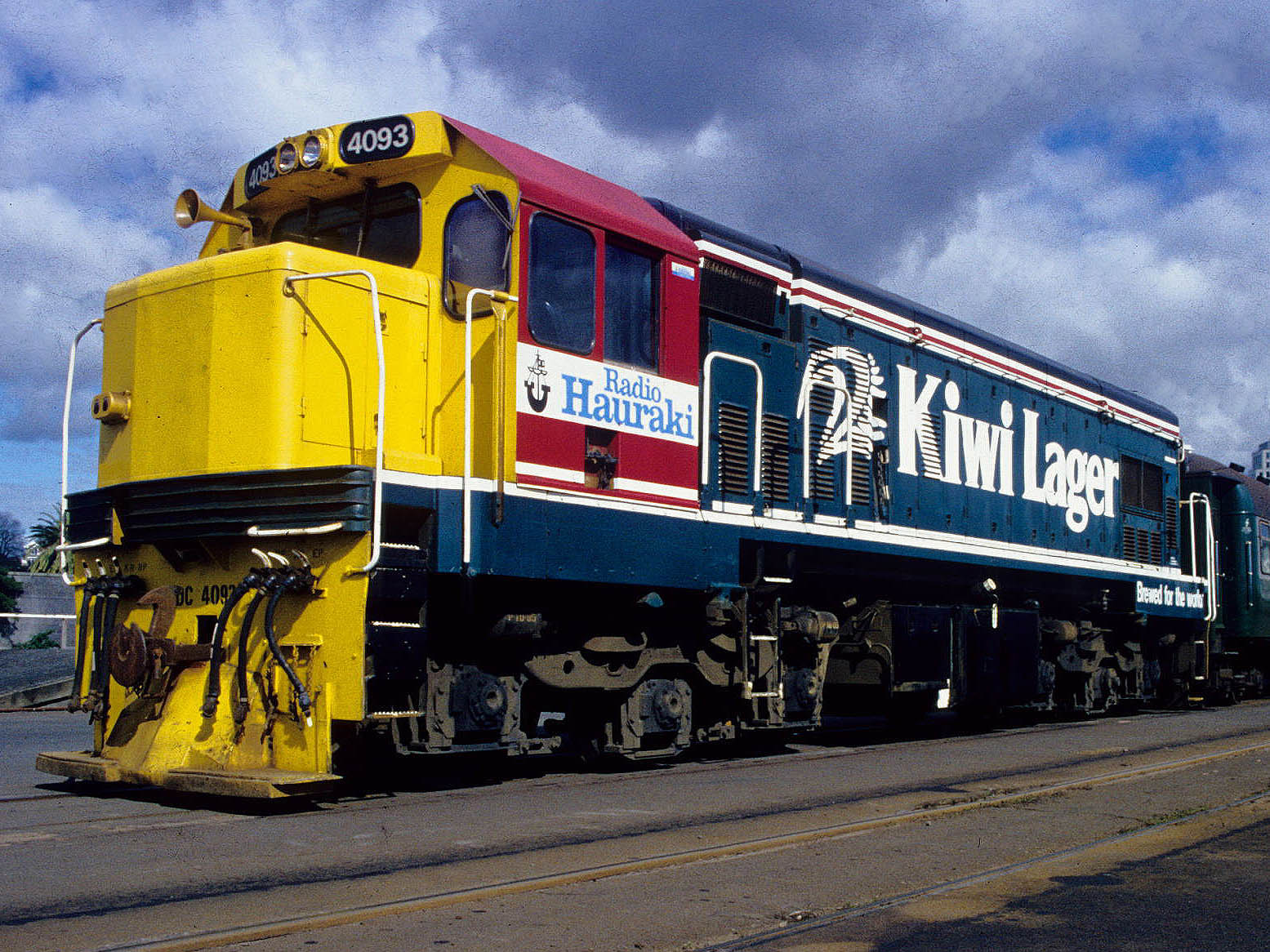 Kiwi Lager
Used for the short-lived Kiwi Lager Express ski train. DC 4093 remained in this livery until an accident in 1992.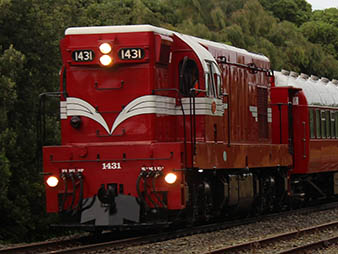 New Zealand Government Railways
Introduced: 1950s
Worn by: early diesel and electric locomotives
A red-all-over livery with white stripes on each end of the locomotive. This was the livery worn by all diesel and electric locomotives (except the DX class) up until International Orange was introduced in 1978.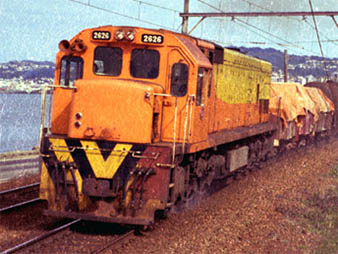 Clockwork Orange
Also known as: Popsicle, Tropical
Worn by: all DXs
This livery was applied to the DX class when first introduced.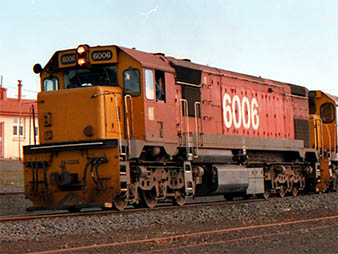 Flying Tomato
Worn by: some DFs and DCs
A simpler and cheaper version of the International Orange livery.
Images originally published by nzrailphotos.co.nz are released under the Creative Commons Attribution-NonCommercial-NoDerivatives 4.0 International Licence.
DX 5143 in New Zealand Rail, DX 2626 in Clockwork Orange and DC 4346 in Tasman Forestry sourced from www.kiwibonds.com and allows for public use of images for non-commercial use.
Image of ADB 778 in Transperth livery taken by James Pole and released under the Creative Commons Attribution 3.0 New Zealand licence.
Image of DM 27 in Midland Red taken by Matthew Bell-Hills and released under the Creative Commons Attribution-Share Alike 4.0 International licence.
Image of DF 6006 in Flying Tomato taken by GPS 56 and released under the Creative Commons Attribution 2.0 Generic licence.
Photo of DC 4093 in Kiwi Lager livery taken by Michael Tolich, used with permission.